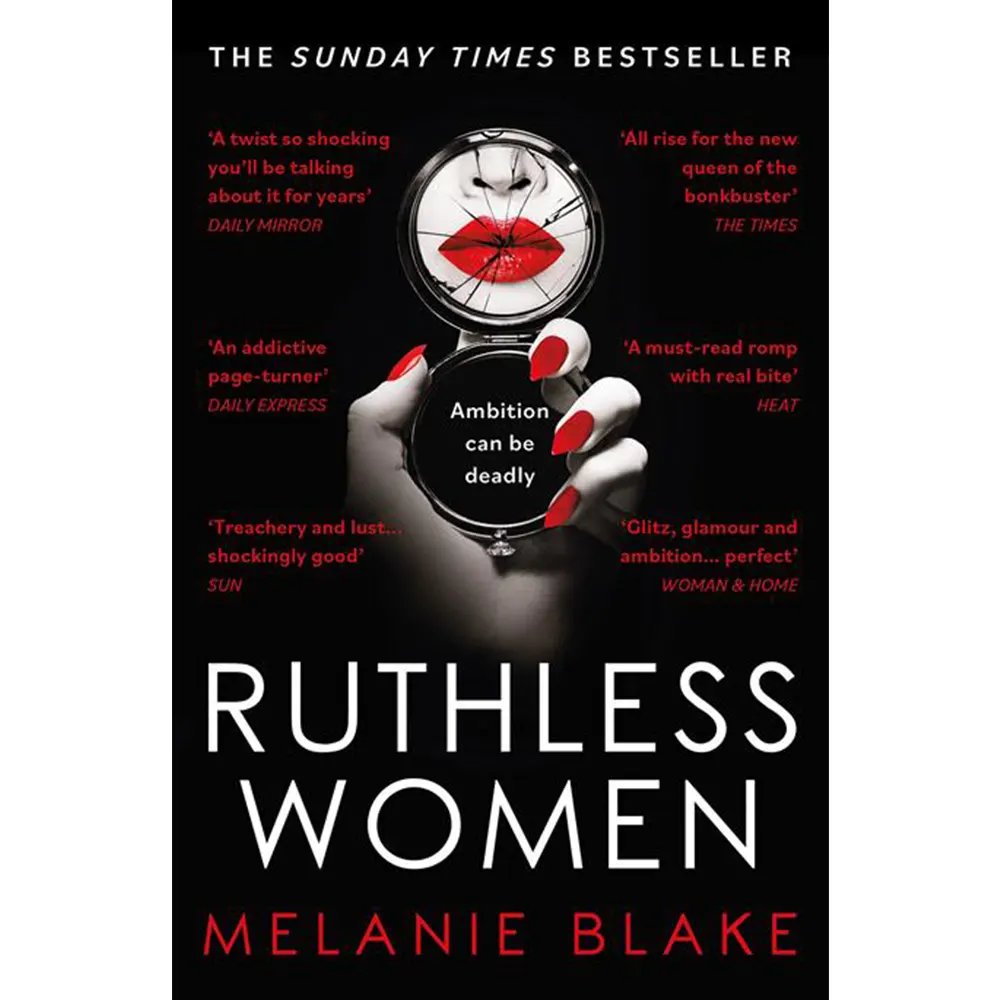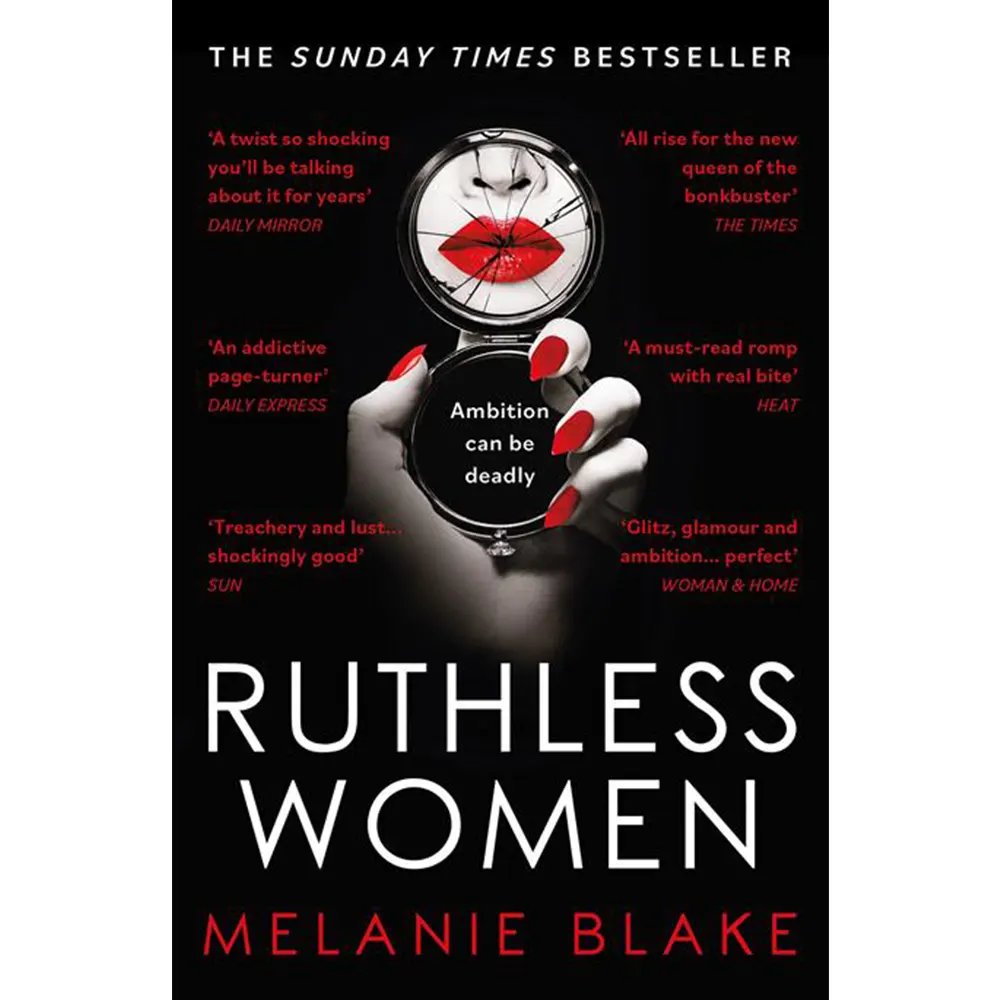 Warranty
7 Days Easy Return Or Exchange (Condition Applied)


---

Easy Returns
15 Days Easy Return or Exchange without Questioning. Customer will Only pay delivery Charges.

Trusted Shipping
Free Shipping when you spend Rs. 3000 and above

Secure Shopping
7 Days return policy in case of Damage or wrong product.

Delivery
All Over Pakistan In Transparent Flyers (See Before You Pay)
Kayazar.com brings you the best price for Ruthless Women by Melanie Blake along with COD (Cash on Deliver), Supplying all over Pakistan | Click & Buy 24/Seven.
Highlights
Paper Quality : Good
Binding Quality : Good
New
THE SUNDAY TIMES BESTSELLER AND THE HOTTEST BOOK OF 2021 The new Queen of the bonkbuster THE TIMES Glitz, glamour and ambition ... Perfect WOMAN & HOME Does for TV what The Devil Wears Prada did for fashion OK! Shocking and utterly unputdownable DAILY EXPRESS This is the book of 2021 DAILY MIRROR AMBITION CAN BE DEADLY On a beautiful private island off the coast of the UK, the cast and crew of glamorous TV show Falcon Bay are at breaking point. Ratings are falling, and their new boss is inventing ever more dramatic – and impossible – storylines to get Falcon Bay back into the number 1 slot. Director Farrah, lead actress Catherine and producer Amanda are the passionate, ambitious women holding the show together. With so much at stake, they will stop at nothing to stay in the jobs they love and on the island they call home. Can these women team up to bring down their rivals? Or will scandal, betrayal and ambition tear them apart? ______ WHAT PEOPLE ARE SAYING ABOUT
RUTHLESS WO
MEN A page-turning bonkbuster so gloriously sexy, funny and gripping, its sending the showbiz elite WILD! NEW Revenge, betrayal, murder and some of the hottest scenes you ll ever read ... Each character is perfectly crafted ... Plus there s a twist ending that will leave your jaw on the floor SUNDAY EXPRESS Buckle up, you re in for a raunchy ride ... So addictive we couldn t put it down – it s a real roller coaster of a ride SUNDAY MIRROR A twist so shocking you ll be talking about it for years ... This is the book of 2021 DAILY MIRROR Does for TV what The Devil Wears Prada did for fashion; shows the rotten truth hidden behind the golden facade ... The must-read novel of the year OK! The bonkbuster is back with a bang! Ruthless Women is the read of 2021 WOMAN S OWN Everything Fifty Shades should have been HEAT It s the sauciest, most riveting read of the year – a bonkbuster so gloriously sexy, funny and page-turning, we devoured it in just two days DAILY RECORD With women who are beautiful, shrewd, and determined and a story of revenge, treachery, and lust ... A shockingly good read SUN I m obsessed with this book ... Makes Fifty Shades of Grey look like Snow White ... Ruthless Women blew my mind COLEEN NOLAN In their power suits and stilettos the queen bees fight for supremacy in a male-dominated industry ... Everything Fifty Shades of Grey was not THE LADY A brilliantly plotted story with characters that jump off the page ... Will have you gripped to the last page, while also making you laugh BELLA Think Sex and the City 20 years on ... Suspense soaked in glamour. Beautifully written [...] with romps, rivals and ruthless ambition to die for MY WEEKLY This year s must-read NOTEBOOK MAGAZINE
About the Author
Bestselling author Melanie Blake s own real life Rags to Riches story reads like the plot of an outrageous drama... At fifteen years old Melanie Blake was told by her high school career advisors that her decision to do work experience at a local record shop was an embarrassment to the school and a clear example that she wouldn t go far in life or her career . They were wrong. By twenty-one she was working at the BBC s iconic Top of the Pops show and by twenty-seven she had built a reputation as one of the UK s leading music and entertainment managers, with her own agency and roster of award-winning artists who had sold more than 100 million records. During this time she also built up an acting agency from scratch which quickly became the most successful independent boutique agency in the UK where she manages clients from some of the biggest internationally syndicated shows in the world. Her roster have won Baftas, Emmys and pretty much every best actress award going and Melanie is one of the most successful female agents in the world. In the UK alone, over 25 million people a week currently tune in to watch the very stars Melanie represents in their globally syndicated shows. In 2018 after two decades at the top of her game, Melanie decided to manage a smaller client list and concentrate on her other passion, writing - first as a columnist for a national newspaper, then as a playwright and now as a best-selling novelist. Her first book The Thunder Girls became a Number 1 Best Seller in the summer of 2019 and the play she adapted from the novel broke box office records for a new work at the prestigious Lowry Theatre. She still represents a high profile stable of some of the best known faces on British television but is also now enjoying success in her own right as a producer, author and playwright.
Paper Quality : Good
Binding Quality : Good
New
| | |
| --- | --- |
| Gender | Unisex |
| Author | Melanie Blake |
| Language | English |
| Age Group | Adult |
| BOOK-GENRES | Fiction |
| Product Type | Book |
Customer Reviews
Based on 0 reviews
---
Sorry! there is no reviews about this product. Be the first one to
Write a review
about this product.