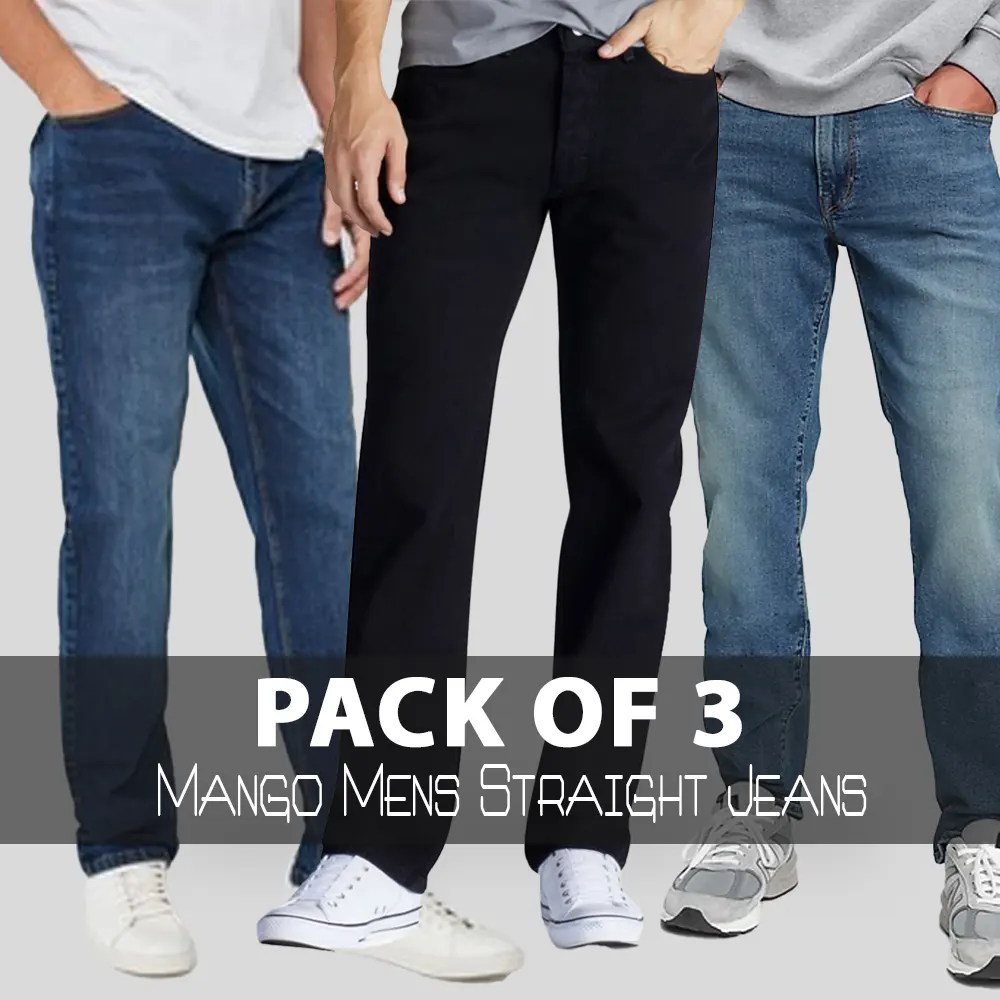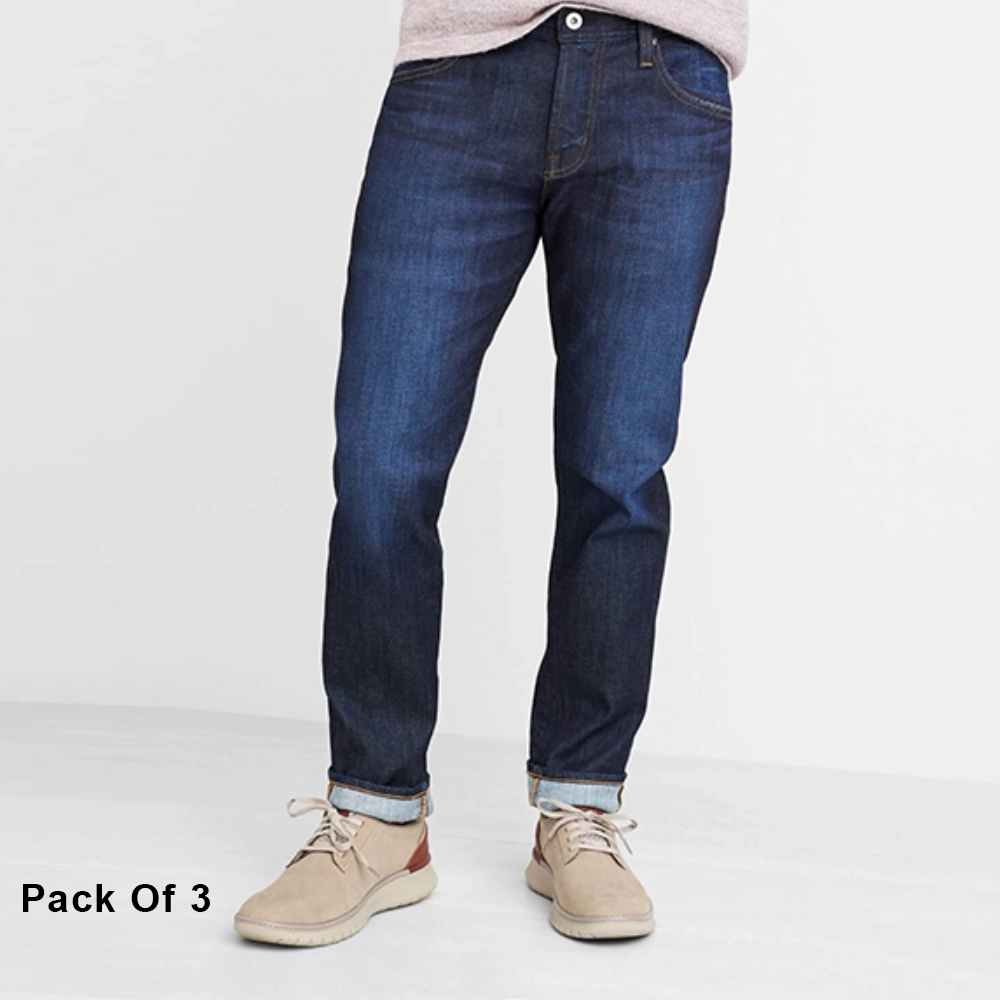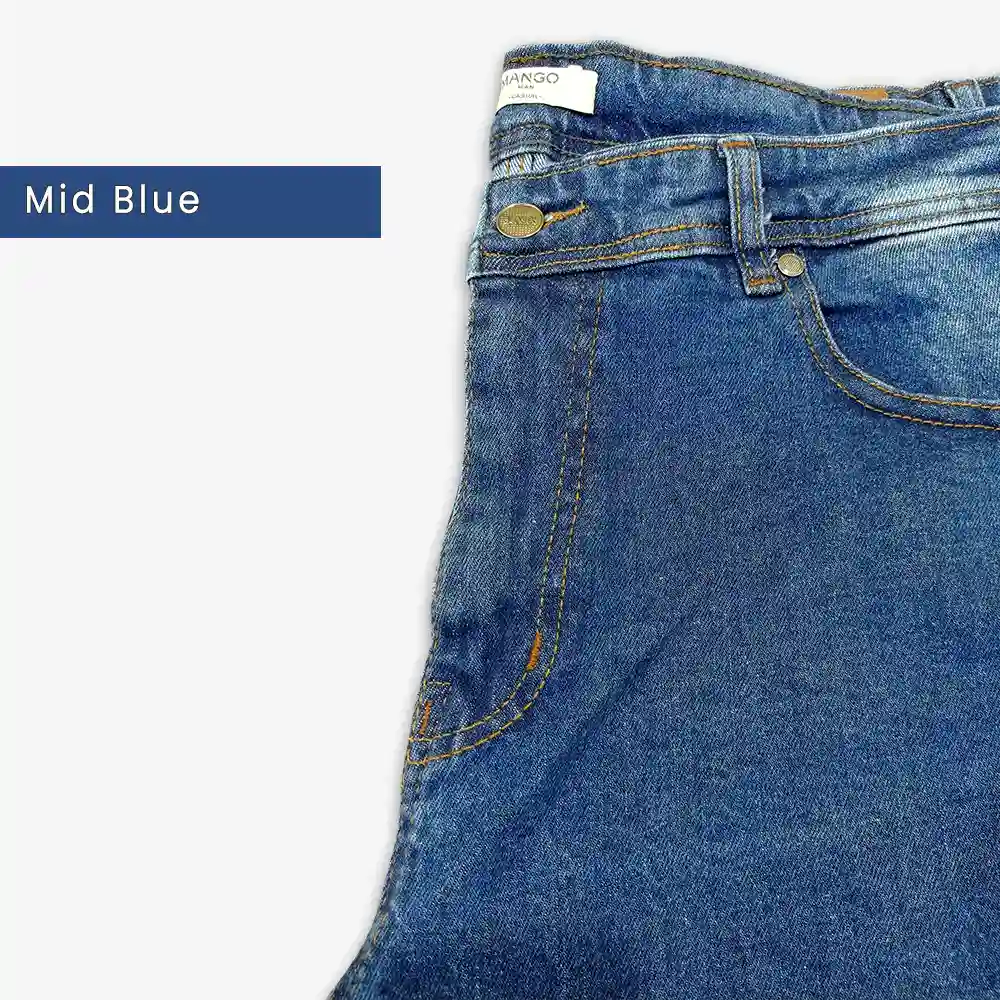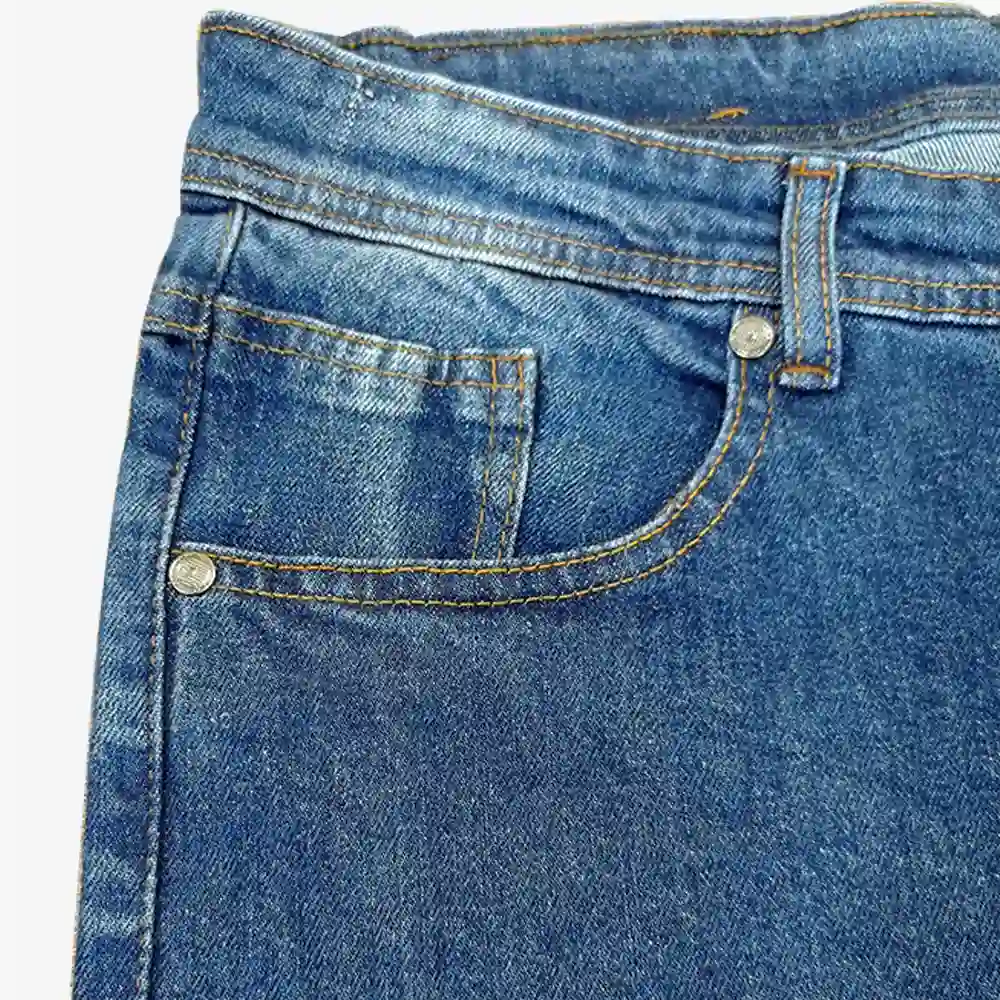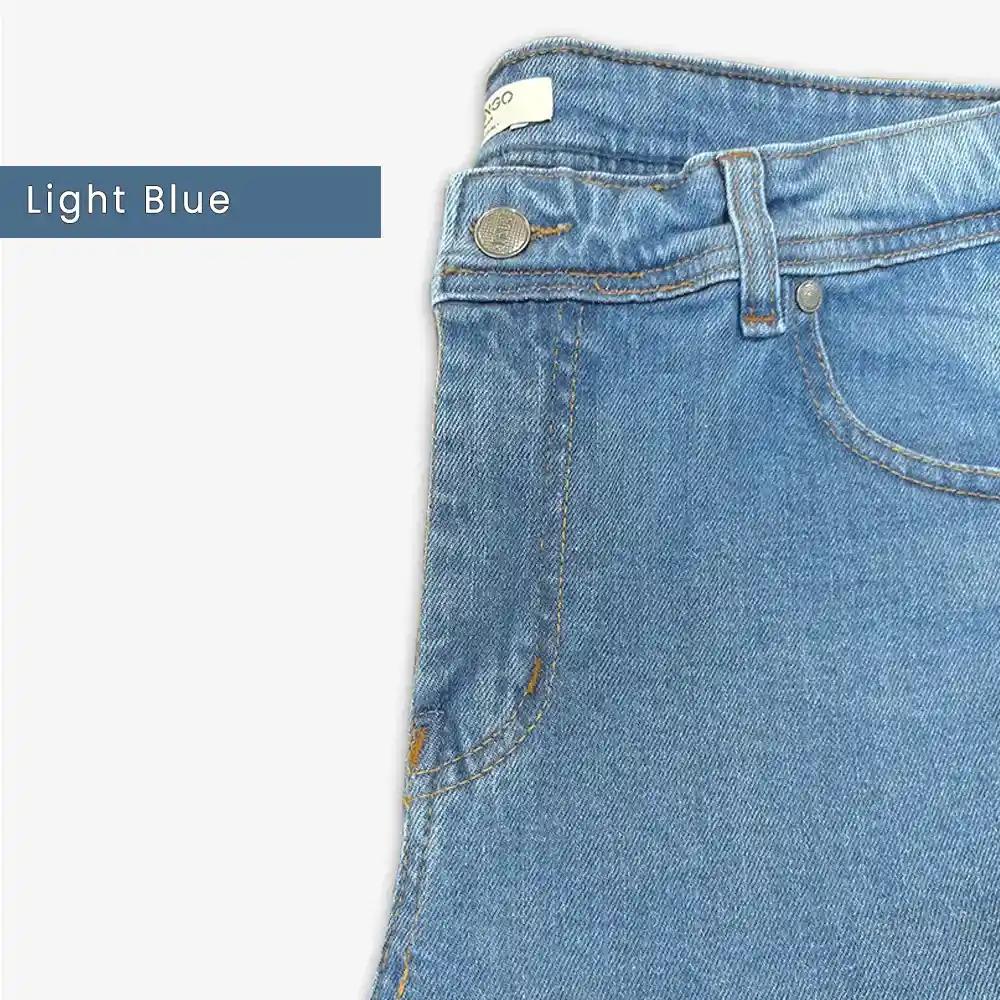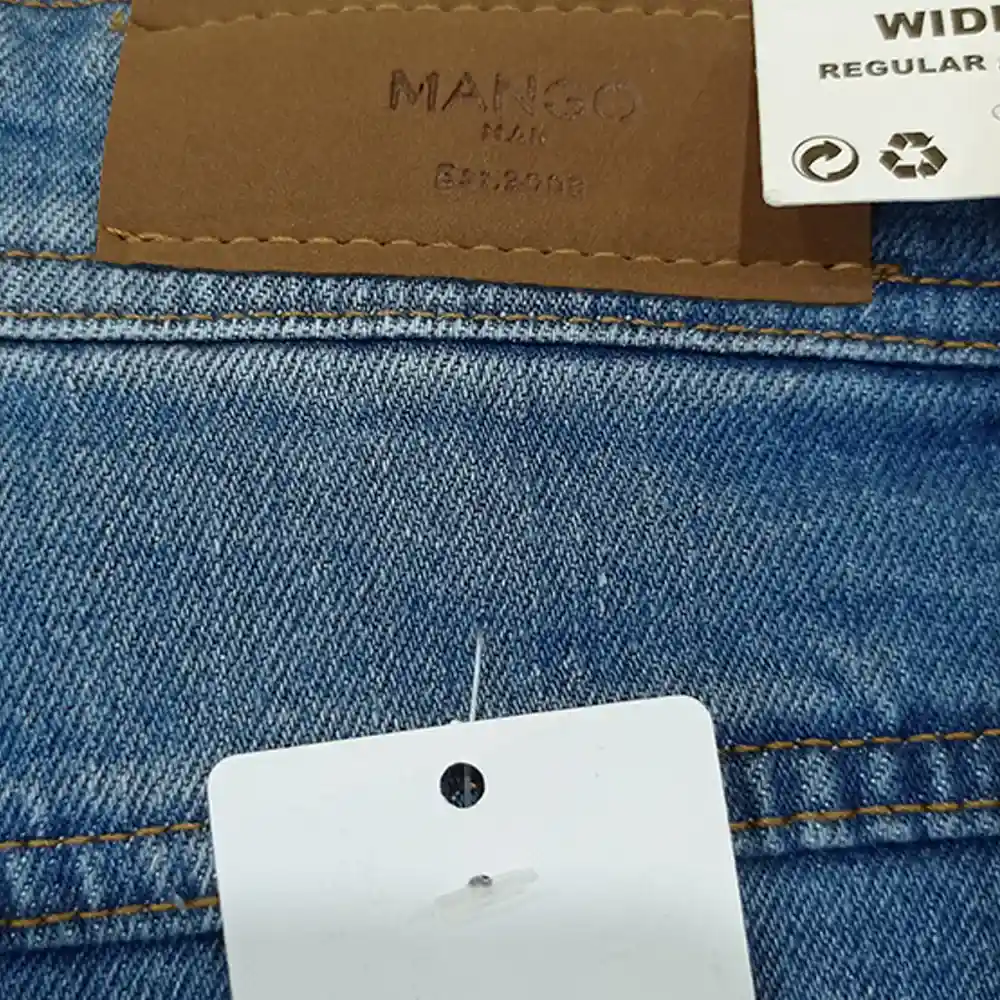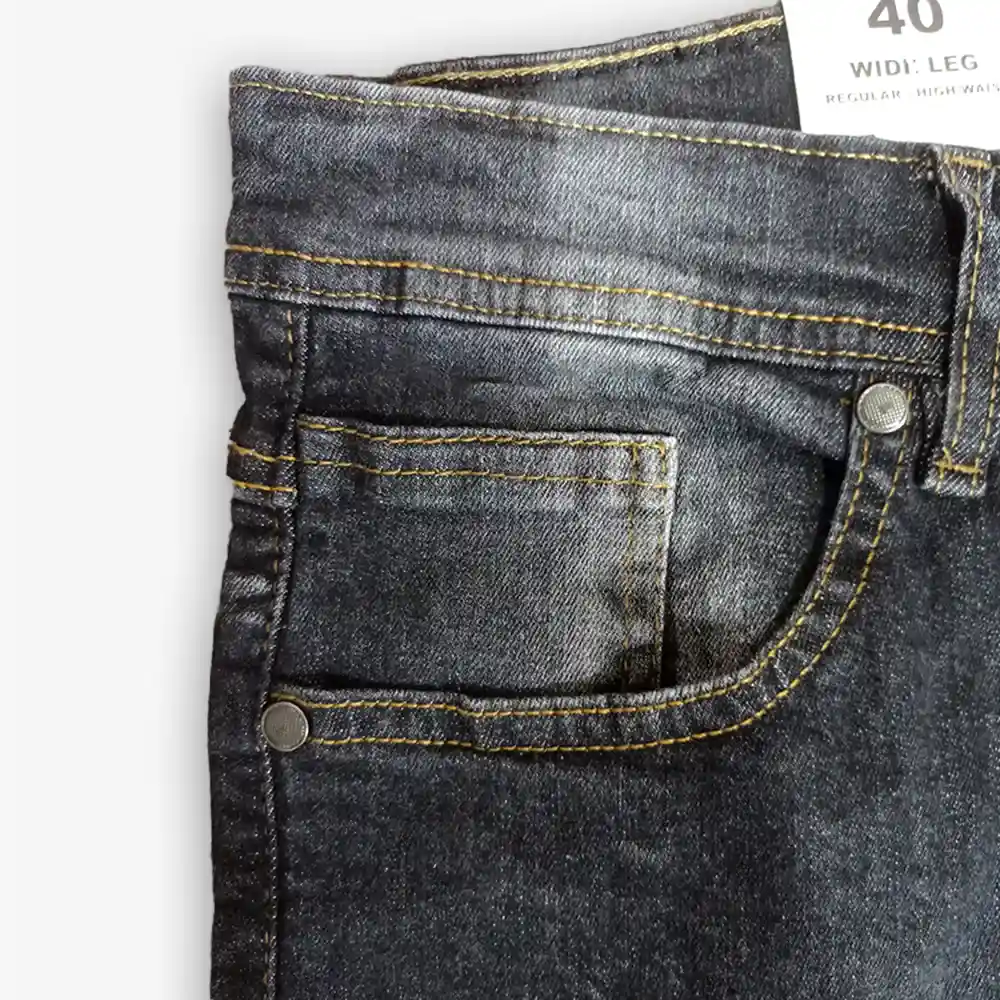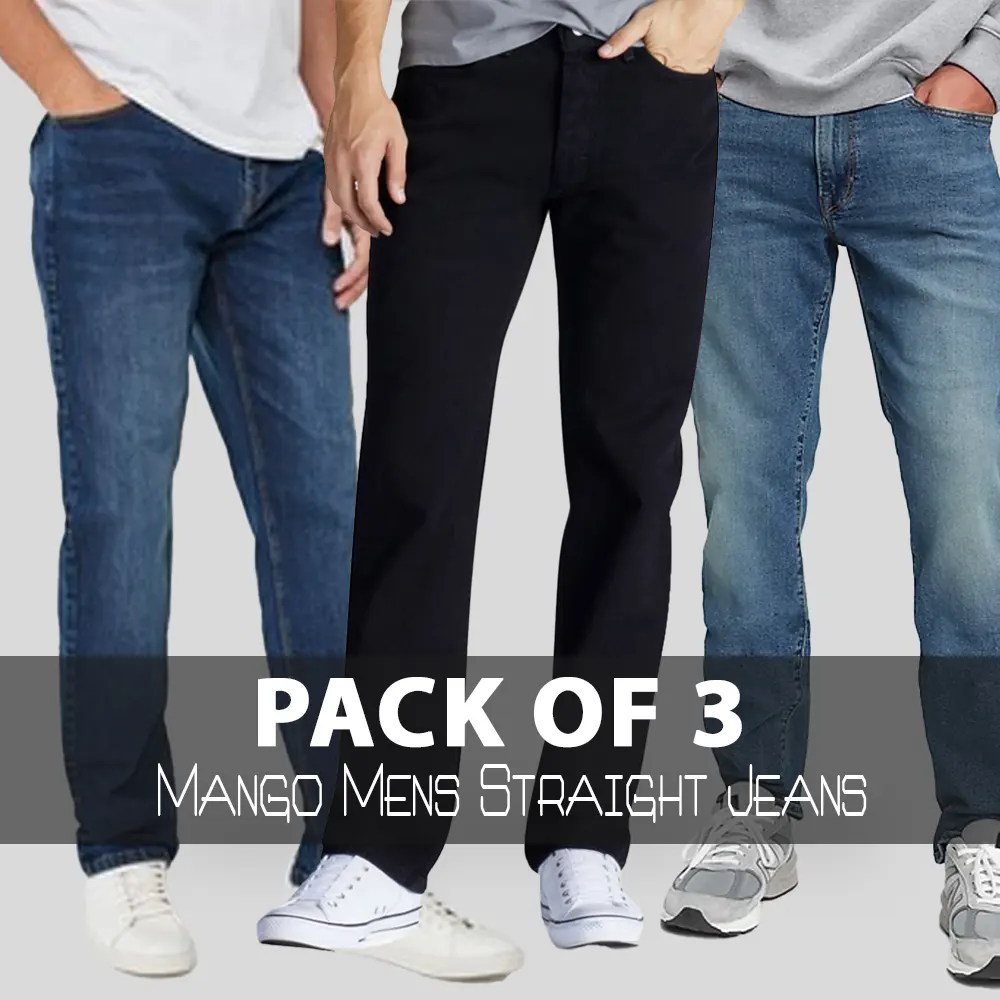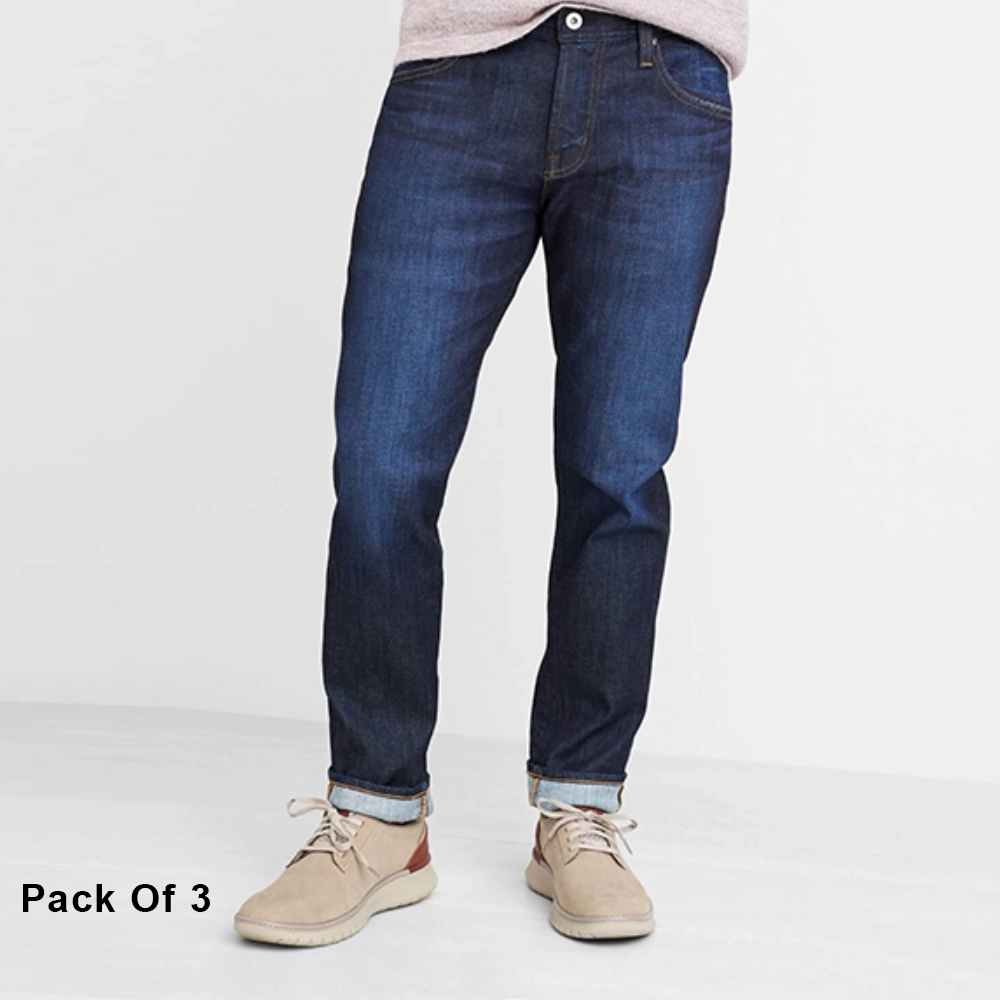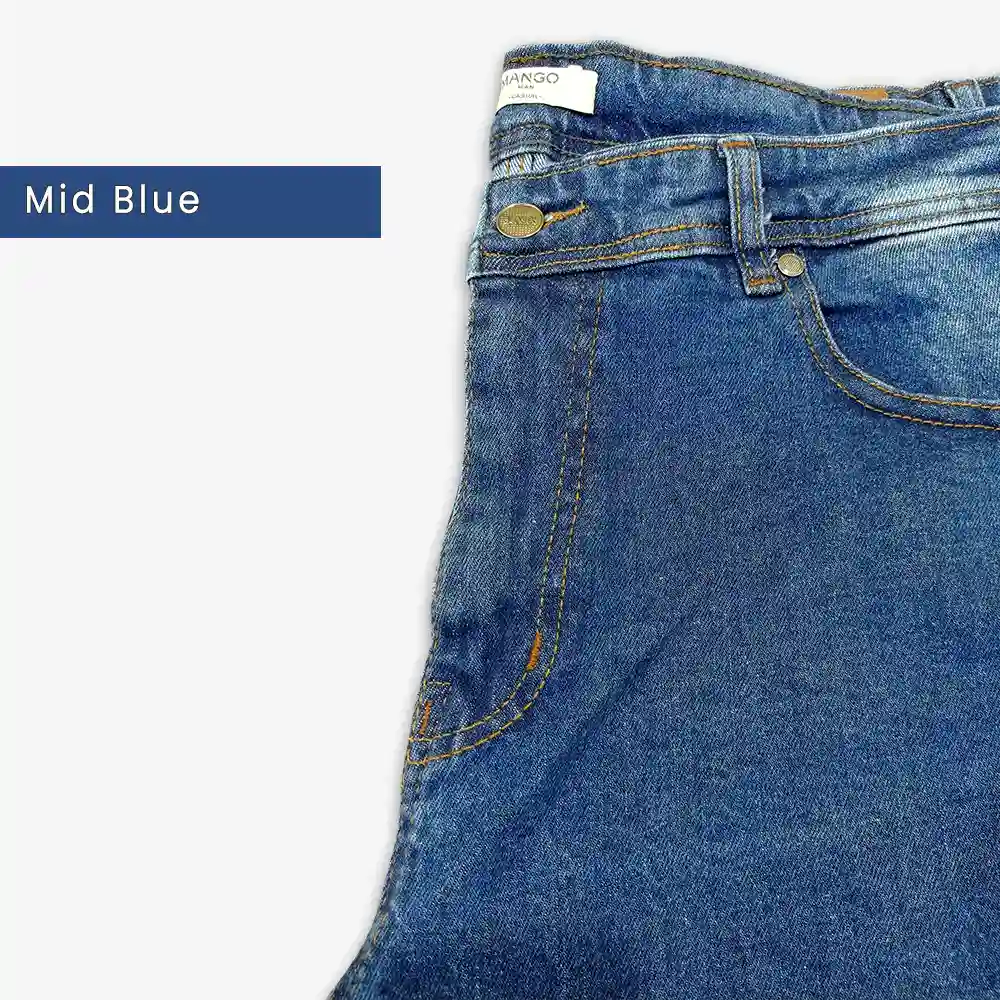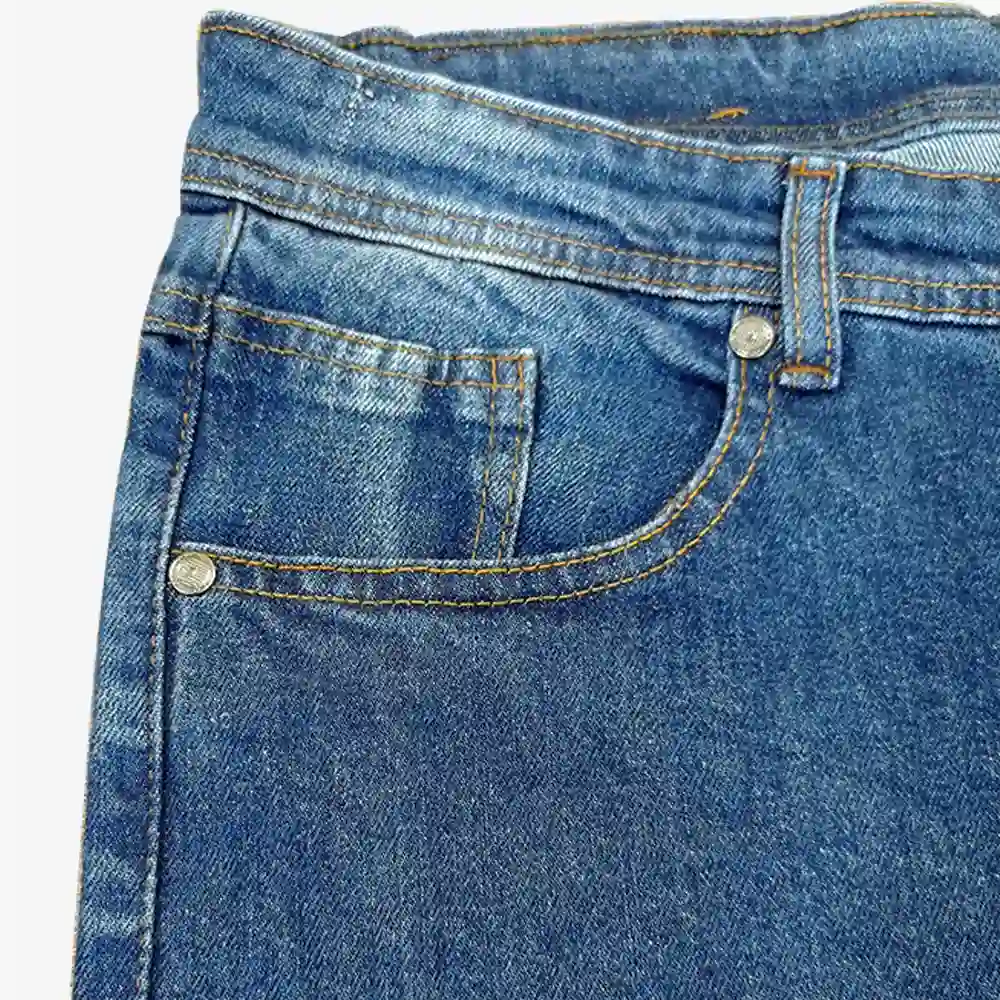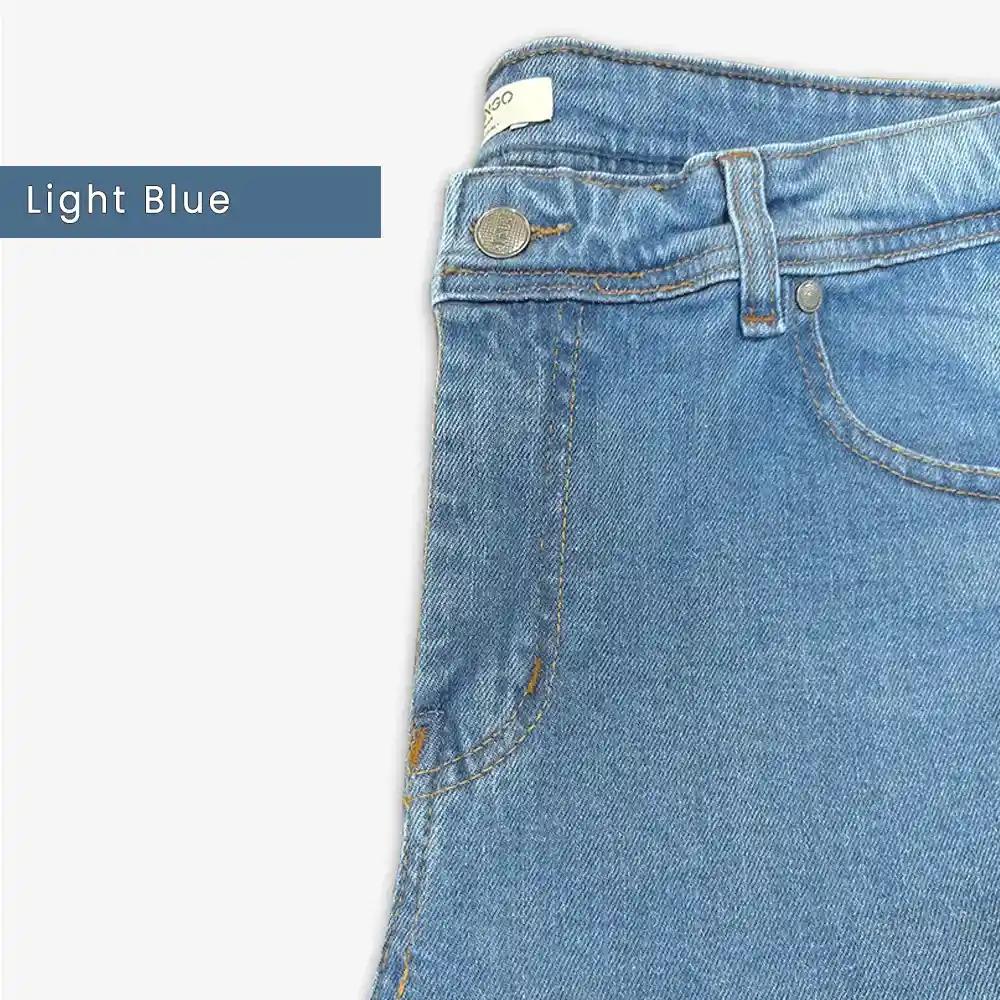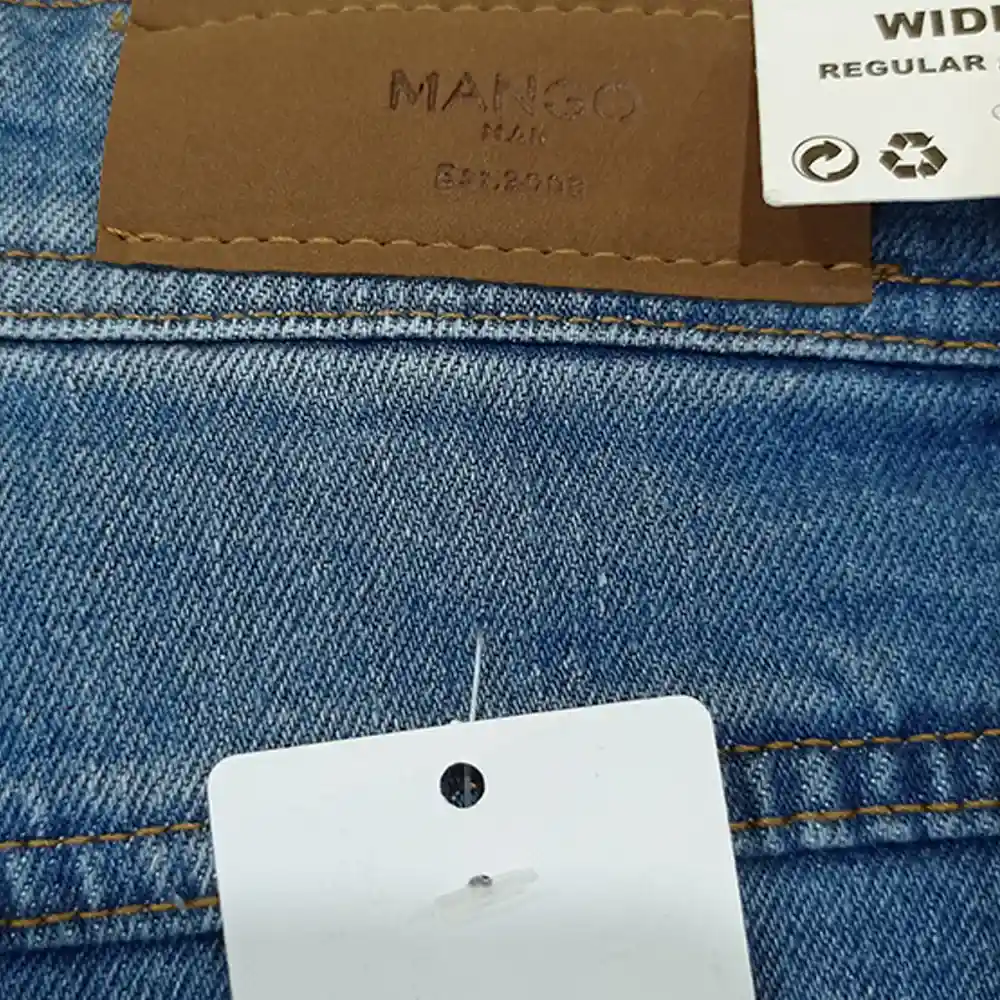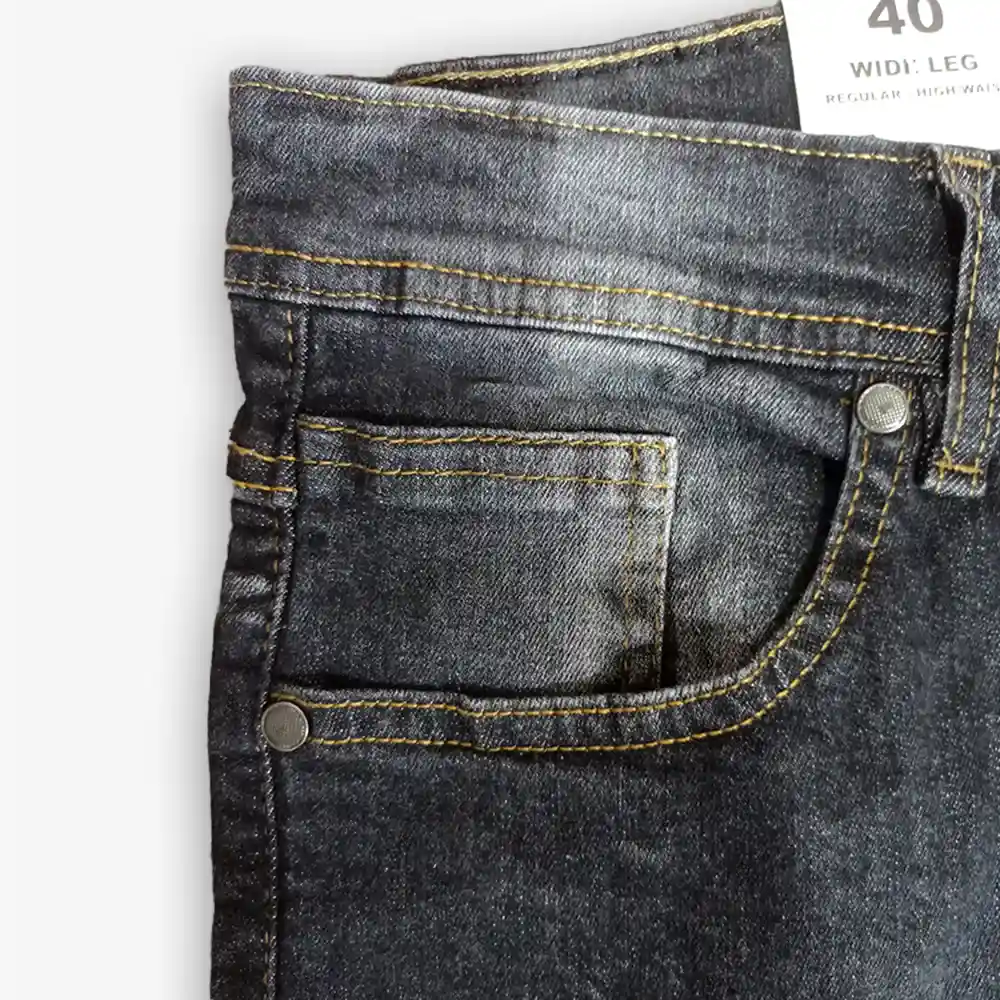 Brand:

Mango Jeans
Mango Men's Straight Pattern Branded Jeans Pack Of 3
model number: Mango Brand
(
74 reviews
)
Rs. 4,500
Rs. 10,950
-59%
:
Dark Blue

Jet Black

Light Blue

Mid blue
:
Dark Blue

Jet Black

Light Blue

Mid blue
:
Dark Blue

Jet Black

Light Blue

Mid blue

Warranty
7 Days Easy Return Or Exchange (Condition Applied)


---

Easy Returns
15 Days Easy Return or Exchange without Questioning. Customer will Only pay delivery Charges.

Trusted Shipping
Free Shipping when you spend Rs. 3000 and above

Secure Shopping
7 Days return policy in case of Damage or wrong product.

Delivery
All Over Pakistan In Transparent Flyers (See Before You Pay)
Kayazar.com brings you the best price for Mango Men's Straight Pattern Branded Jeans Pack Of 3 along with COD (Cash on Deliver), Supplying all over Pakistan | Click & Buy 24/Seven.
Highlights
Fabric: Denim
Brand: MANGO
Pattern: Straight Pattern Jeans
Stretchable: Power-Stretchable
Delivery: Free Delivery
Condition: New
Pack of 3 have 3 Mango Brand Jeans
Please Check Size Chart Before Order
This video(s) is for guidance and usage purposes. For actual product, kindly check details & images above.
Men's Straight Pattern Branded Jeans
Kayazar Brings you a fine Denim collection under the name of Mango Brand. Sustainable denim. Straight-fit. Medium wash. Five pockets. Loops. Zip and one button fastening.
Through the use of sustainable cotton and innovative processes such as Eco Wash, the Mango denim collection has managed to reduce the use of energy, chemicals, and water to 30 million liters. Some models also include 20% recycled denim under the Second Chances project, which gives a second life to customers' garments deposited in our stores. In this way, Mango is promoting the use of more environmentally committed practices, increasing the number of sustainable garments in its collection every day.
---
Care Instruction
Machine washes warm, wash dark colors separately, do not bleach, tumble dry low, warm iron. Due to the inherent nature of indigo/sulfur dyed fabrics, the surface color may bleed or rub off onto lighter surfaces.
Fabric: Denim
Brand: MANGO
Pattern: Straight Pattern Jeans
Stretchable: Power-Stretchable
Delivery: Free Delivery
Condition: New
Pack of 3 have 3 Mango Brand Jeans
Please Check Size Chart Before Order
Customer Reviews
Based on 74 reviews
---
The product is so good and the stuff of jean is very nic .The product is same as in the picture but the stuff is so good

Salman on 15/11/2021

The product is so good and the stuff of jean is very nic .The product is same as in the picture but the stuff is so good

---

Nice i like it very much

Faisal on 13/11/2021

---

Mujhe parcel mil gya ha a+ qauality ki jeans hyn behtreen wali thank u kayazar

moosa on 13/11/2021

Mujhe parcel mil gya ha a+ qauality ki jeans hyn behtreen wali thank u kayazar

---

Love it...

Maaz on 13/11/2021

---

loved these! must buy

Ameer Ali on 13/11/2021

---

zabardast

Rafiq Ahmed Chinoy on 12/11/2021

---

your jeans are great…

Ahmer on 12/11/2021

---

Waiting for that, Thanks KAYAZAR

Muzammil on 11/11/2021

Waiting for that, Thanks KAYAZAR

---

Very Good Stuff. Thank you

Asif Wali on 11/11/2021

Very Good Stuff. Thank you

---

Very good quality. Nice product. Delivered as shown . I appriciate the good work

anees on 11/11/2021

Very good quality. Nice product. Delivered as shown . I appriciate the good work

---

very good quality pents recieved today is th same as shown.Highly recommended

Jamshed on 11/11/2021

very good quality pents recieved today is th same as shown.Highly recommended

---

Very Good jeans

Murtuza on 11/11/2021

---

Umda ahla behtareen

Zeshan on 10/11/2021

---

the quality is satisfactory

Mohsin on 08/11/2021

the quality is satisfactory

---

the quality is satisfactory

Mohsin on 07/11/2021

the quality is satisfactory

---

The quality is really outstanding.. Ioved the product same as shown

Mohsin on 07/11/2021

The quality is really outstanding.. Ioved the product same as shown

---

The stuff Of The product is good . the size is the same in which I ordered

muhmmad rizwan on 03/11/2021

The stuff Of The product is good . the size is the same in which I ordered

---

The stuff Of The product is good . the size is the same in which I ordered

muhmmad rizwan on 03/11/2021

The stuff Of The product is good . the size is the same in which I ordered

---

This product is very good and nice All pants is very comfortable and Very Good quality im agree for this product. .

junaid on 01/11/2021

This product is very good and nice All pants is very comfortable and Very Good quality im agree for this product. .

---

Ok product for the price.

Shokat Islam on 30/10/2021

Ok product for the price.

---

Very good quality. Nice product. Delivered as shown . I appriciate the good work

anees on 30/10/2021

Very good quality. Nice product. Delivered as shown . I appriciate the good work

---

The quality is really outstanding.. Ioved the product same as shown

Mohsin on 30/10/2021

The quality is really outstanding.. Ioved the product same as shown

---

very good quality pents recieved today is th same as shown.Highly recommended

Jamshed on 28/10/2021

very good quality pents recieved today is th same as shown.Highly recommended

---

The product is so good and the stuff of jean is very nic .The product is same as in the picture but the stuff is so good

Salman on 25/10/2021

The product is so good and the stuff of jean is very nic .The product is same as in the picture but the stuff is so good

---

nice stuff & stitching

Faisal on 22/10/2021

---

Very good in a reasonable price

Mujeeb on 20/10/2021

Very good in a reasonable price

---

Product is very good

Shan Shani on 11/10/2021

---

product quality very good and excellent price offer.

Sabir on 09/10/2021

product quality very good and excellent price offer.

---

very good quality pents recieved today is th same as shown.Highly recommended

Asif Wali on 08/10/2021

very good quality pents recieved today is th same as shown.Highly recommended

---

This product is very good and nice All pants is very comfortable and Very Good quality im agree for this product. .

Umar Shehzad on 06/10/2021

This product is very good and nice All pants is very comfortable and Very Good quality im agree for this product. .

---

Totally satisfied with the product Highly recommended

Irtiza on 04/10/2021

Totally satisfied with the product Highly recommended

---

nice

Adeena on 03/10/2021

---

quality product at affordable price.. going to by more items from this

Jamshed on 03/10/2021

quality product at affordable price.. going to by more items from this

---

Quick delivery and quality was good..

Nadeem on 02/10/2021

Quick delivery and quality was good..

---

Really amazing jeans keep it up

BB khan on 01/10/2021

Really amazing jeans keep it up

---

Very Good Items, Also Sizes

Muzzamil on 30/09/2021

Very Good Items, Also Sizes

---

Very Good jeans

Murtuza on 29/09/2021

---

Very Good Items, Also Sizes

Muzzamil on 27/09/2021

Very Good Items, Also Sizes

---

MAASHAHALLAH, Boht Hi Umda Behtren Product???? Fully Satisfied ????

Maaz on 25/09/2021

MAASHAHALLAH, Boht Hi Umda Behtren Product???? Fully Satisfied ????

---

nice stuff & stitching

Faisal on 25/09/2021

---

Really amazing jeans keep it up

BB khan on 25/09/2021

Really amazing jeans keep it up

---

reasonable market price

Mehmood Sultan on 25/09/2021

---

reasonable Quality reasonable price

Arsalan on 25/09/2021

reasonable Quality reasonable price

---

recommended

Mansoor on 25/09/2021

---

recommended. good quality in a reasonable price. thanks alot for such quality

Hamid on 25/09/2021

recommended. good quality in a reasonable price. thanks alot for such quality

---

resonable price ha apki

Muhammed raheel on 25/09/2021

---

same as shown in the pic and the stuff it's so good thanks

Rohaan on 25/09/2021

same as shown in the pic and the stuff it's so good thanks

---

Same As shown!

sabeen on 25/09/2021

---

Same As shown!

sabeen on 25/09/2021

---

satisfied and recommended

Zain Sultan on 25/09/2021

satisfied and recommended

---

Satisfied with customer service.

Khan on 25/09/2021

Satisfied with customer service.

---

Second purchase. Very good quality pants. I am so happy with this purchase. The stuff of both pants is different but both are really good. Highly recommended.

Muhammad Farhan on 25/09/2021

Second purchase. Very good quality pants. I am so happy with this purchase. The stuff of both pants is different but both are really good. Highly recommended.

---

Such a great quality, im satisfied.

Abbas on 25/09/2021

Such a great quality, im satisfied.

---

Thank YOU BHAI

Billal Qadri on 25/09/2021

---

Thank you kayazar bht achi quality haai this prize I have recieved My pacel Good service

Zain on 25/09/2021

Thank you kayazar bht achi quality haai this prize I have recieved My pacel Good service

---

the quality is satisfactory

Mohsin on 25/09/2021

the quality is satisfactory

---

This was my first order aur mujhe Lagta he second order bhi yahin se hi karwana parega Men boht Khush hua

Umar Shehzad on 25/09/2021

This was my first order aur mujhe Lagta he second order bhi yahin se hi karwana parega Men boht Khush hua

---

Totally satisfied with the product Highly recommendedTotally satisfied with the product Highly recommended

Irtiza on 25/09/2021

Totally satisfied with the product Highly recommended

---

nice

Adeena on 25/09/2021

---

Umda ahla behtareen

Zeshan on 25/09/2021

---

Very Good Stuff. Thank you

Asif Wali on 25/09/2021

Very Good Stuff. Thank you

---

Waiting for that, Thanks KAYAZAR

Muzammil on 25/09/2021

Waiting for that, Thanks KAYAZAR

---

Yesterday recieved my parcel. Excellent stuff quality

rehan on 25/09/2021

Yesterday recieved my parcel. Excellent stuff quality

---

your jeans are great…

Ahmer on 25/09/2021

---

zabardast

Rafiq Ahmed Chinoy on 25/09/2021

---

Thanks for such an excellent product Quality wise awesome

Zain on 23/09/2021

Thanks for such an excellent product Quality wise awesome

---

reasonable market price

Mehmood Sultan on 22/09/2021

---

reasonable price

Mehmood on 22/09/2021

---

reasonable Quality reasonable price

Arsalan on 22/09/2021

reasonable Quality reasonable price

---

received before given time.....very good service and good quality

Mujeeb on 22/09/2021

received before given time.....very good service and good quality

---

recommended

Mansoor on 22/09/2021

---

Received my order today, much satisfied

Abdullah on 22/09/2021

Received my order today, much satisfied

---

recommended. good quality in a reasonable price. thanks alot for such quality

Zubair on 22/09/2021

recommended. good quality in a reasonable price. thanks alot for such quality

---

recommended. good quality in a reasonable price. thanks alot for such quality

Zubair on 22/09/2021

recommended. good quality in a reasonable price. thanks alot for such quality

---